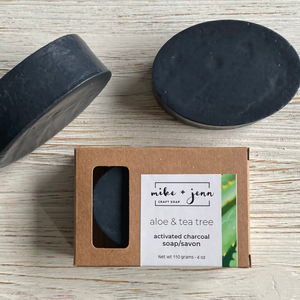 aloe + tea tree charcoal soap
Yes, from across the room one can tell that this bar of soap is heavy on the activated charcoal but the aloe vera gets top billing as I think that it's really the star of this show!  
Aloe has been used forever for treating all kinds of skin ailments ... from a sunburn to wound healing!  Aloe is incredibly rich in the antioxidant vitamins A, C & E which reduce inflammation.  It is also naturally antibacterial & antiviral.  Cool, huh? 
Both Tea Tree Essential Oil and Activated Charcoal have become gold standard staples in the handcrafted soap world for their effectiveness in providing a deep clean!
This bar is formulated completely different from our standard hand and body soap and is intended as a facial bar for those with oily or acne-prone skin.  
Ingredients: Saponified Olive Oil & Coconut Oil, Aloe Vera, Saponified Avocado Oil, Mango Butter, Hemp Oil, Castor Oil, Tea Tree Essential Oil, Activated Charcoal, Collodial Oats, Lavender, Rosemary & Clary Sage Essential Oils
4.2 - 4.5 ounce bar in an adorable, protective & recyclable cardboard box
*All soap bars are individually poured and will always vary a bit in appearance but not in the ingredients!  Our soap is well-cured and will last quite a while when kept dry between uses!
---
We Also Recommend