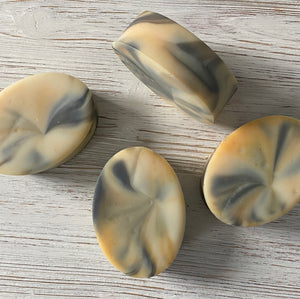 coconut milk + turmeric activated charcoal soap
Can you relate to that often heard expression "your mother's wrinkles and your daughter's pimples"?   If so, THIS IS YOUR SOAP!  
Coconut Milk is hugely renowned for it's wonderful skin benefits!  It's anti-inflammatory, anti-bacterial and contains very high amounts of Vitamin C and Copper which promote a healthy glow and help to maintain skin elasticity!  Very cool!
And Turmeric as a perfect compliment for coconut milk and not just in awesome Vietnamese cooking!  Turmeric is high in antioxidants and is naturally anti-septic, keeping bacteria from spreading!  It also is known to calm and brighten skin and reduce scarring!  
This bar is formulated completely differently from our standard hand and body soap and is intended as a facial bar for those with somewhat oily and occasionally  acne-prone skin.  Left free of essential oils to be extra mild!
Ingredients: Saponified Olive Oil & Coconut Oil, Coconut Milk, Saponified Rice Bran Oil, Mango Butter, Castor Oil, Activated Charcoal, Turmeric Powder
4.0 - 4.5 ounce bar in an adorable, protective & recyclable cardboard box
*All soap bars are individually poured and will always vary a bit in appearance but not in the ingredients!  Our soap is well-cured and will last quite a while when kept dry between uses!
---
We Also Recommend