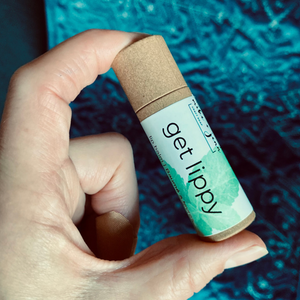 NEW 'get lippy' lip balm in paperboard tubes
Finally got these into a package that I'm hoping will work much better!   I'll still make some tins for folks that prefer them though so please let me know in the notes :)
This is my one desert island product.  I had crazy chapped lips and a red ring around my mouth from constant nervous licking as a kid.  Trying to make it through an entire Saturday-morning cartoon without licking my lips is ingrained in my memory. 

That said, this formulation is loaded with ultra-nourishing and slow-absorbing  excellent raw materials to soothe and protect without constant reapplying.  Everything from Renee and Joelle's amazing Westlock County beeswax to raw, handcrafted shea from a village in Northern Ghana is thoughtfully chosen.  Thick, rich occlusive olive, jojoba and castor oils. Organic calendula for all it's wonderful skin-healing properties.  
And just a kiss of peppermint essential oil.  
** Comes in a hefty paperboard tube ... push up from the bottom!
Ingredients:  Shea Butter, Alberta Beeswax, Coconut Oil, Calendula-Infused Olive Oil, Jojoba Oil, Castor Oil, Vitamin E, Peppermint Essential Oil
---
We Also Recommend