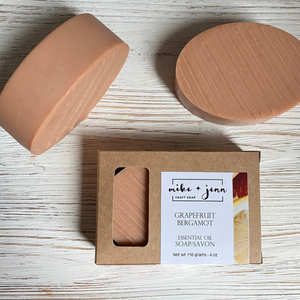 grapefruit bergamot soap
Jenn is NOT a morning person but if she was, this would be the soap in her shower!  It's bright and energizing and it'll get ya going like a triple espresso! :) 

Of course it's made with our extra-gentle and ultra-nourishing Vegan, Gluten-free, Palm Oil free all-natural Shea Butter, Cocoa Butter + Oat Milk main soap recipe!   The lovely colour comes from French Pink Clay ... for a wee polish and gentle detox! 
Soft, smooth, healthy skin is the name of the game here! 

Minimum 4oz bar of soap all clean & snug in a recyclable kraft box
Plain English Ingredients:  Saponified Olive Oil, Coconut Oil, Shea Butter, Rice Bran Oil, Cocoa Butter and Castor Oil; Oatmilk; Pink French Clay; Grapefruit, Bergamot, May Chang & Lavender Essential Oils
*All soap bars are individually poured and will always vary slightly in appearance but not in the ingredients!  Our soap is well cured and will last quite a while when kept dry between uses!
---
We Also Recommend