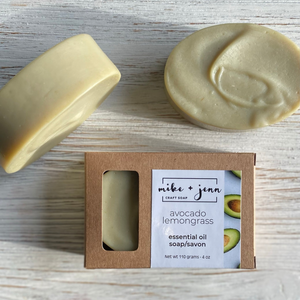 avocado lemongrass soap
I'll admit that the smell of Lemongrass straight out of the bottle was not my favourite!  Took a long time to actually build a soap around that scent but, man oh man, was it worth the wait!  The Lemongrass Essential Oil mellows with the cure and is paired with just enough Lime for a lovely fresh, bright scent that will get ya movin!  As a bonus Lemongrass known to be anti-inflammatory, circulation improving and skin soothing!  
That said ... the avocado is kind of the star of this show!  Everyone's favourite guacamole ingredient is crazy loaded with antioxidants and vitamins bringing so much to the table here!  Everything from skin repair to hydration to nourishment!  And we've added a double dose with both Avocado Oil & Organic Avocado Puree!
Minimum 4oz bar soap in a recyclable kraft box

Plain English Ingredients:  Saponified Olive Oil, Coconut Oil, Avocado Oil, Shea Butter, and Castor Oil; Organic Avocado Puree; Lemongrass & Lime Essential Oils; French Green Clay
*All soap bars are individually poured and will always vary slightly in appearance but not in the ingredients!  Our soap is well cured and will last quite a while when kept dry between uses!
---
We Also Recommend