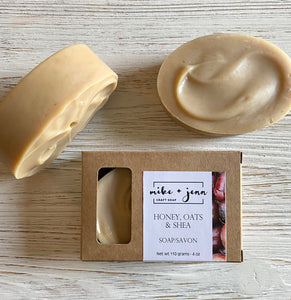 honey, oats & shea body soap
This one shoulda been called SHEA, oats & honey!  D'oh!  I kinda missed the mark on that!  Raw Fair Trade Handcrafted Shea Butter straight from a hard-working women's collective in Northern Ghana is the SECOND ingredient in this bar at a WHOPPING 23%!! 
One of the reasons I got into soapmaking was after reading the ingredients on a box of soap from a mountain of soaps at a big box store.  It was a major brand and advertised as their premium "Shea Butter" soap!  There musta been at least 40 ingredients in microprint with 'shea butter extract' second to last.  Sigh.  Don't let them do that to you!   Let's protect ourselves and take a minute to ALWAYS read the ingredients!  
This soap is unapologetically unscented but the sweet honey scent does come through a bit.  Along with the anti-bacterial honey, this bar is loaded with skin-soothing oat milk!
Label says 4 ounces but it's more like 4.2-4.3 ounces
PALM OIL FREE but please note that this one has HONEY so it's not vegan! 
Speaking of ingredients:  Saponified Olive Oil, Shea Butter, Coconut Oil and Caster Oil; House-made Oat Milk; Raw Alberta Honey
*All soap bars are individually poured and will always vary slightly in appearance but not in the ingredients!  Our soap is well-cured and will last quite a while when kept dry between uses!
---
We Also Recommend