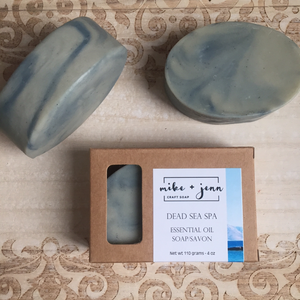 dead sea spa soap
The only way to describe the scent of this best selling soap is intoxicating!  It's a fresh Lavender Mint with a bit of grounding Patchouli and a hint of Tea Tree.  I find that it really brings the spa home!  So much so, that we have a matching body butter and soak in this crazy popular scent!  

This awesome bar has more to offer than just smelling great though!  A generous amount of MINERAL RICH Dead Sea Clay and luxury ingredients like a ridiculous amount of shea butter and cocoa butter!
The blue comes from Indigo Root Powder and NEVER from micas.
Over 4 ounces of lovely, lathery soapy goodness!
Ingredients in Plain English:  Saponified: Olive Oil, Coconut Oil, Shea Butter, Rice Bran Oil, Cocoa Butter, Castor Oil; Dead Sea Clay; Indigo; Peppermint, Lavender, Patchouli & Tea Tree Essential Oils  
*All soap bars are individually poured and will always vary slightly in appearance but not in the ingredients!  Our soap is well-cured and will last quite a while when kept dry between uses!
---
We Also Recommend