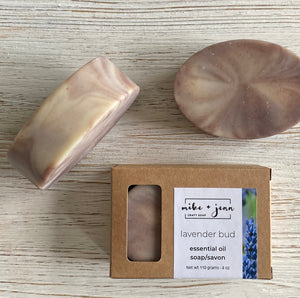 lavender bud soap
While we tend to make soaps that feel lovely and are nourishing on your skin, they're not exactly going to be winning a beauty pageant any time soon!  This bar is an exception.
Alkanet Root Infused Olive Oil provides this wonderful swirl that is revealed more and more as the soap is used.  And the smell ... oh my!  Lavender, Bergamot & Rosemary!  
All this in a hearty 4.4 ounce or so bar.  Cute little box is ready for gifting!  
The rich lather comes from:                                                                                   Saponified Lavender and/or Alkanet Root Olive Oil, Coconut Oil, Shea Butter, Rice Bran Oil, Cocoa Butter and Castor Oil; House-made Oat Milk; Lavender, Bergamot and Rosemary Essential Oils 
*All soap bars are individually poured and will always vary slightly in appearance but not in the ingredients!  Our soap is well-cured and will last quite a while when kept dry between uses!
---
We Also Recommend