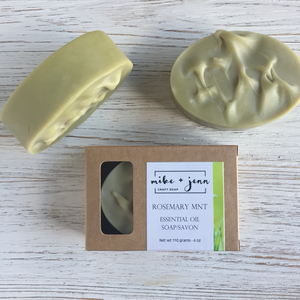 rosemary mint soap
This is one of our FAVOURITE essential oil blends!!  There's never a wrong time for Rosemary Mint!  
As with all of our essential oil soaps, this one is 'tastefully' scented … only you and whomever you invite in your shower with you will enjoy it as the warm water tends to wake up the essential oils a bit! 
Aside from the scent though, this is a lovely bar … all of our usual skin-loving suspects - shea butter, housemade oat milk, cocoa butter and Vitamin + Mineral Rich French Green Clay & organic moringa + spinach powders for the colour! 
4.2 - 4.3 ounces of lathery goodness.  Sweet little box to keep her safe!
Ingredients are: Saponified: Olive Oil, Coconut Oil, Shea Butter, Rice Bran Oil, Cocoa Butter and Castor Oil; Oat Milk; Rosemary Essential Oil; Spinach Powder; French Green Clay; Moringa Powder; Peppermint Essential Oil; Spearmint Essential Oil
*All soap bars are individually poured and will always vary slightly in appearance but not in the ingredients!  Our soap is well-cured and will last quite a while when kept dry between uses!
---
We Also Recommend